Dr. Maria Art Antonette Clariño named new ICS Director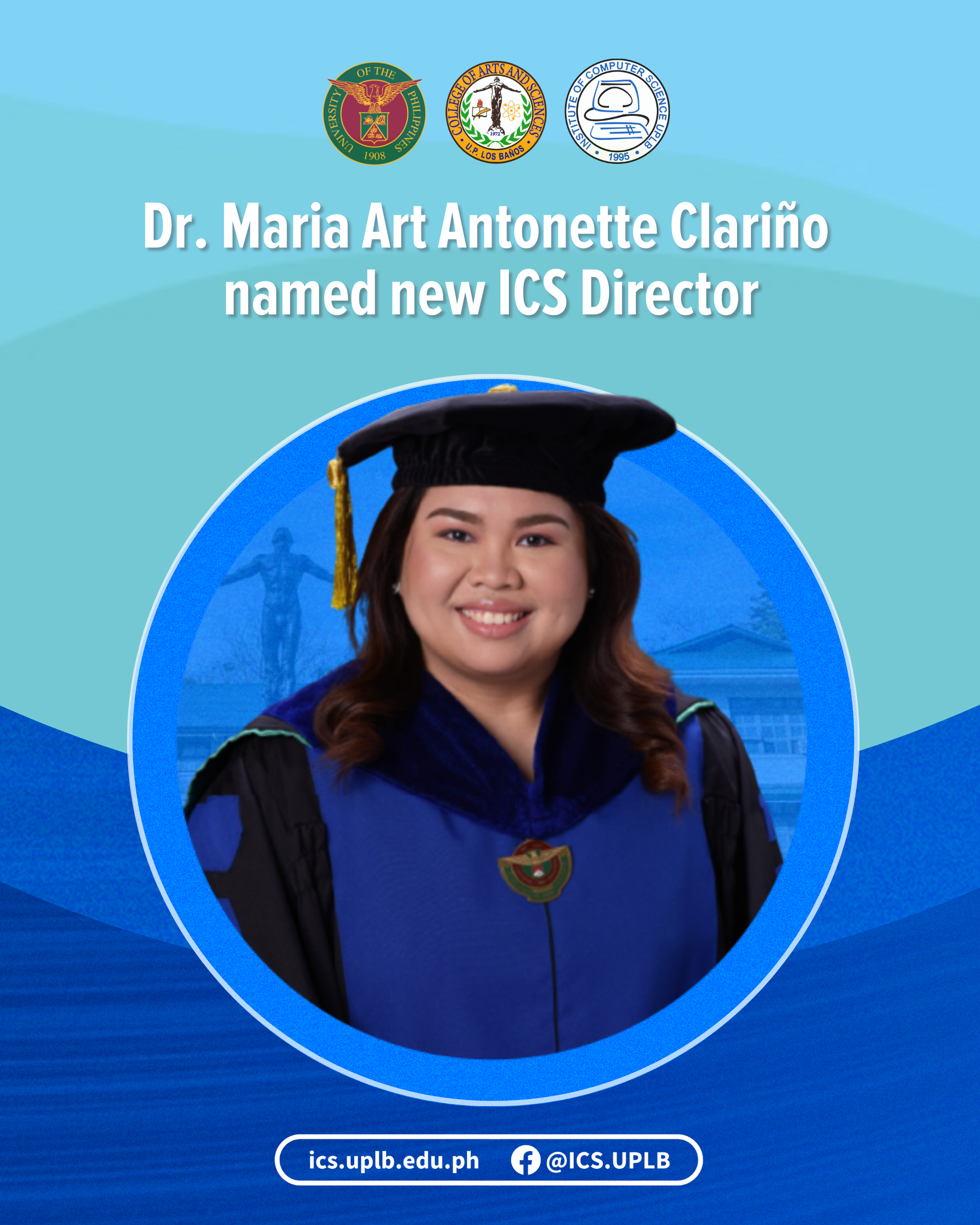 The Institute of Computer Science proudly welcomes Dr. Maria Art Antonette Clariño as its newly appointed director.
Outstanding achievements mark Dr. Clariño's academic journey at UPLB. She graduated Magna Cum Laude with a Bachelor of Science in Computer Science in 2008, followed by a Master of Science in Computer Science in 2011. In 2019, she culminated her educational journey with a Doctor of Philosophy in Computer Science, solidifying her commitment to advancing knowledge in her field.
With a remarkable 15-year service as a dedicated faculty member, Dr. Clariño has demonstrated unwavering commitment to the institute. She has assumed leadership positions, notably as the former head of the Research & Development Division, where she facilitated various research-related activities and endeavors such as the CAS SFRC and the Cinterlabs ACRES.
Dr. Clariño's dedication and contributions to academia have not gone unnoticed. In 2023, she was honored with the 2022-2024 One UP Professorial Chair Award in Teaching and Public Service. This recognition is a testament to her outstanding teaching and public service performance, embodying the values and standards upheld by the One UP Professorial Chair Awards and Faculty Grant Awards.
Dr. Clariño's research interests span diverse and cutting-edge domains, including Agent-based Modeling and Simulation, Digital Image Analysis, Natural Language Processing, and Machine Learning. She has published papers in esteemed venues such as the Journal of Telecommunication, Electronic and Computer Engineering (JTEC), the Asian Conference on Remote Sensing (ACRS), and the Philippine Computing Journal. She also reviewed papers for O-COCOSDA and iCORE.
Her vision for the future of ICS is both strategic and comprehensive. Dr. Clariño's plan for the faculty and staff aims to "prioritize the hiring and retention of faculty members by implementing deloading strategies," especially for those at the thesis stage in their study, thereby ensuring a conducive environment for teaching and research. Her commitment to fostering a robust research culture within the institute is reflected in her plans to promote and support faculty research endeavors.
To streamline administrative operations, Dr. Clariño emphasizes the importance of "prioritizing the hiring of staff members", recognizing their invaluable role in "ensuring smooth administrative operations."
Furthermore, she envisions a significant enhancement of the institute's graduate programs. Developing innovative course proposals will accomplish this and foster collaborations with experts worldwide, possibly inviting adjunct professors to contribute their expertise. These initiatives aim to enrich the academic experience for students and elevate the global standing of ICS graduate programs.
In addition to internal improvements, Dr. Clariño is committed to "strengthening community ties and alumni relations." Her plans include implementing extension activities that connect ICS with the broader community and maintain open communication lines with alumni. These efforts seek to foster a sense of belonging and engagement, ensuring that the institute continues to thrive as a supportive and interconnected community.
Dr. Maria Art Antonette Clariño's appointment as the Director of ICS at UPLB marks a pivotal moment for the institute, ensuring a promising trajectory in advancing education, research, and innovation in computer science under her capable leadership.